Book & eBook: Il coraggio della filosofia for il Saggiatore

Punto acuto this time has made​​, in addition eBook, even files for paper version of the book "Il coraggio della filosofia" edited by Pier Aldo Rovatti, published by il Saggiatore.
It is a collection of essays, from 1951 to now, taken from "aut aut", quarterly journal of philosophy and culture, founded in Milan in 1951 by Enzo Paci.
Usually Punto acuto implement your eBooks in ePub format, the magazine "aut aut", both numbers being published today, that those of past years. But many of the essays reprinted in this collection were available only in paper format. It was therefore necessary to run a scan job to capture the text.
Punto acuto in detail has been involved in reviewing some of the scans content for better fidelity to the original as regards the recognition of footnotes and Greek characters. The text obtained was then laid out to carry out the files for printing.
Did you follow the proof reading and subsequent inclusion in the electronic file. Completed the work for the paper was then made the ePub of "Il coraggio della filosofia".
Proof reading – Il coraggio della filosofia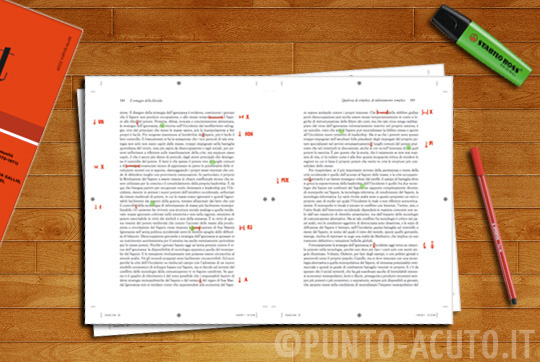 iPad – Il coraggio della filosofia