ePub&Mobi: historical catalog in eBook for il Saggiatore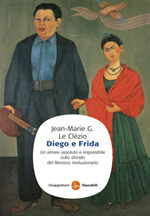 How many times has it happened to try and find a book that had run out of hard copies available on the market? One of the inputs that gives the eBook market encourage publishers to make their digital catalog of old books giving the reader a chance to have available all the books published at the latest in digital version. Making a eBook also costs much less than what is necessary to sustain for a reprint on paper, so why not try to relist old titles and see how they are welcomed?
In view of republishing eBook of old titles Catalogue Punto Acuto has made ​​the digital version (ePub and for Mobi by Amazon) of five eBook by il Saggiatore: Diego e Frida by Jean-Marie Le Clézio, Economia canaglia by Loretta Napoleoni, La fortezza della solitudine by Jonathan Lethem, Gli anni con Laura Diaz by Carlos Fuentes and Con cuore di donna by Carla Capponi.